Lent Season and Food Considerations
With many customers abstaining from meat this season, it's time to refresh your seafood menu and offer guests a few new dishes they'll love long after Lent, too. 
Shamrock has you covered when it comes to supply and preparation of your seafood dishes. The typical seafood dishes are expected, but to really attract customers to your restaurant, you'll need to elevate your dishes and set yourself apart from the competition. 
Use Pierport For Your Seafood Needs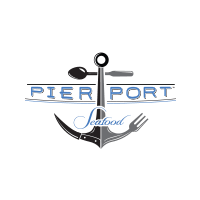 The first step in making your mark with seafood meal preparations during Lent is obtaining your seafood from the right supplier. Let Pierport® help you get ahead with high quality seafood from waters all over the world. Pierport partners with fisheries that are fully committed to sustainability to bring you the freshest and most flavorful wild-caught seafood from around the globe. The selection has a variety of fish and seafood to keep your dishes creative and exciting.
Choose from:
Salmon
Exotic Fin Fish
Blue Swimming Crab
Calamari
Mussels and Clams
Breaded & Battered Fish and Shrimp
And more!
Seafood Meal Ideas and Inspiration
Once you have your seafood supply covered, it's time for the exciting part. Setting your seafood menu apart during the Lent season will ensure you have repeat customers every Friday and beyond.
SEAFOOD SLIDERS
Fish sandwiches are tried and true, but spruce things up by offering seafood sliders as a sampler for an appetizer or as a main dish with fresh veggies and savory mashed potatoes.
Experiment with different kinds of fish. We're still at the beginning of the year, so help customers stick to their resolutions by offering fresh salmon, cuts of seared ahi tuna, or protein-packed cod. Diversifying your menu with healthy fish options is a great way to entice a wide array of customers.
Dress up the sliders with a zesty Katy's Kitchen® sauce and Markon® fresh vegetables to round out the dish. Take inspiration from Asian, Mediterranean and Mexican flavor palettes when creating your version.
SEAFOOD SALADS
Breaded and grilled shrimp are common staples in salads as a meat substitution. Give your customers more options with on-trend salmon and ahi tuna poke cubes. These textures tend to hold well in a tossed salad compared to tilapia or other flaky seafoods.
Experiment with textured add-ins to give your customer's palette a real treat. Chopped nuts, crispy onions and fresh fruit are a just a few ideas.
UPGRADE THE FISH TACO
Give the beloved fish taco more love and try different fishes and chunky salsas for a fresh twist on the ever-favorite dish. Pierport breaded and battered, wild caught fish are a classic fit for your tacos. Our pre-breaded and battered seafood goes from freezer to plate after just 4 minutes in the deep fryer. Or try oven-ready options for a healthier choice. All these items are created with you in mind: no mess, no waste and less labor.
Cod is usually used for fish tacos, but offer rockfish tacos with a spicy salsa verde or a bright mango salsa. Grill mahi mahi fish tacos and drizzle a zesty chipotle sauce with fresh cabbage and cilantro. These will not only wow the taste buds, but bring a fresh pop of color and excitement to the menu. Even grilled cod or Pollock are a great choice. You can substitute one for the other since both carry the same texture and thickness.
Kick it up a notch and create a grapefruit salsa that brings a bitter yet sweet and spicy taste to the taco. Since fish tacos are always popular, you don't need to reinvent the wheel. A few tweaks are all you need to keep customers coming back for more. And with fish in such hot demand during Lent, it's the perfect time to test the waters on what flavors and combinations your customers love most.
LOBSTER ROLLS
Bring the East Coast to your restaurant, no matter where you are. The sandwich that originated in Connecticut in the 1920s is as popular as ever, popping up in food trucks across the country. A toasty, buttery bread with chunks of fresh lobster, mayonnaise and a dash of lemon is hard to resist. Add more flavor to the lobster roll by mixing in fresh chives or tarragon. Be sure not to over season the sandwich. A little goes a long way.
SCALLOP SEAFOOD MEALS
Next to shrimp, scallops are one of the quickest and easiest seafoods to prepare. Quickly sear on a hot skillet with garlic and butter is the perfect foundation for any great scallop dish. Be sure to check out the wonderful scallop offerings from Pierport today!
Scallops can surely stand on their own, but why stop there? Toss them with pasta, white wine sauce and fresh grated cheese for a brilliant seafood dish. And for soup, shake things up with scallop chowder instead of clam. Remember the tacos we talked about earlier in this post? Load up some tacos with grilled scallops, guacamole and a simple pico de gallo.
Seafood meals and preparations are endless and tons of fun for not only your kitchen staff, but your customers as well. Lent season is the perfect time to try out new creations while catering to the needs of your guests.
---
LET'S OPTIMIZE YOUR OPERATIONS
Check out our resources to help give your menu edge, make your kitchen more efficient and put our team of experts to work for you.

MyShamrock
Your online portal to place orders, track your deliveries and access your transaction history.
Login to MyShamrock

Conversion Charts
Quickly convert measurements for your recipes with these helpful conversion charts for the kitchen.
Get Conversion Charts

Menu Wizard
Exclusive to our customers, an easy way to manage purchase tracking, inventory and menu costs.
Manage Menu Costs
Talk food to us.
Our team of seasoned professionals is ready to help you choose the right products for your business, and put our deep knowledge of the industry to work for you.
Let's work together