Shamrock Foods in Colorado
COLORADO, WESTERN KANSAS, WESTERN NEBRASKA AND WYOMING Food Supply, Distribution & Equipment
---
Become a Customer
Beyond Delivering the right products at the right price at the right time
Shamrock Foods has food distribution centers all over the country to supply our foodservice customers. Colorado is home to our new, Aurora Distribution Center, and several Shamrock Foodservice Warehouse retail stores.
COLORADO FOODSERVICE DISTRIBUTION
Colorado Shamrock Foods Distribution Center
Our new, state-of-the-art foodservice distribution facility in Aurora, Colorado serves restaurant operators in Colorado, Kansas, Nebraska and Wyoming.
Delivery/Receiving Only
22000 E 38th Avenue
Aurora, CO 80019
See it on a map
Colorado Shamrock Foods Branch
This location houses our test kitchens, customer services, administrative and sales offices.
5199 Ivy
Commerce City, CO 80022
See it on a map
.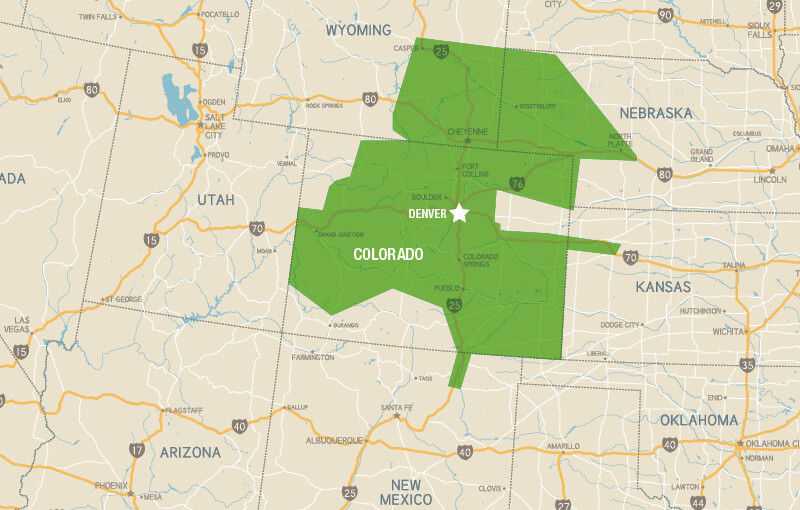 Are you a current customer in need of assistance?
Call Customer Care
Shamrock Foods Broadline Customer Care:
855.397.4255
Shamrock Foods National and Systems Accounts Customer Care:
877.228.9030
Shamrock Farms Dairy-only Accounts Customer Care:
888.977.2475
Serving the Community
We're proud to give back to our communities. That's why we support more than 80 nonprofit organizations every year and donate more than 80,000 pounds of food per month to local food banks, like
St. Mary's Food Bank
. Reach out to your local sales representative to see how Shamrock Foods can get involved in a community event in Colorado.

Get Rewarded Like Never Before
Get more great menu ideas and great savings on items you already purchase. Enjoy exclusive offers, rebates and promotions, and the chance to win great prizes, including trips to some amazing destinations with Shamrock Rewards.